The 46th Annual Meeting (Virtual Meeting)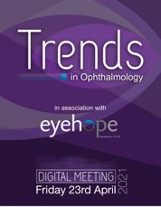 Due to COVID-19 restrictions, we had our first ever, virtual, meeting which was held on Friday 23rd April, with the main sessions being the much loved Medical Eye Unit cases as well as updates on glaucoma, cataract and medical retina.
Unfortunately we were not able to host our usual guest lecture this year although the Catherine Heatley Memorial Lecture, our 7th of these special lectures, went ahead as usual and was presented by one of our research fellows.
It was a well attended event with over 250 participants attending.
As we did not charge a registration fee this year, participants were encouraged to donate towards our fundraising drive for an Eyesi Virtual Reality Ophthalmic Surgery Simulator for South London trainees. We are, as always, very grateful for the funding provided by our industry sponsors, who adapted admirably to the new format.