Welcome
Formed in 2007 by Ophthalmologists based at Guy's & St Thomas' NHS Foundation Trust, the Eyehope Charity is passionate about improving the care of eye disease.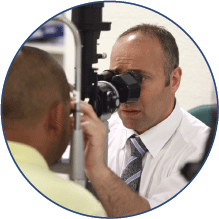 We fund research into the causes and treatments of sight loss; run national courses for those treating eye conditions; and support national and international healthcare professionals with training needs, to deliver better care.
Upcoming Event
Trends in Ophthalmology Meeting 2022
Friday 4th February 2022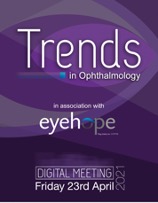 Registration for this meeting is via Eventbrite (see link below) or by searching Eventbrite for 'Trends in Ophthalmology' (Google & Microsoft Bing search engines work best).
We are charging a £30 donation towards our Eyehope charity which supports ophthalmic research, education and training.
Please email Maria Bell regarding questions about any of our meetings or courses.
Schedule
09:00 – 09:10
Introduction: Ms Susie Morley
09:10 – 10:40
Medical Eye Unit cases: Chairs – Dr Sui Wong, Dr Jonny Virgo, Dr Tasanee Braithwaite
09:10 – 09:40
09:40 – 10:10
10:10 – 10:40
Casting the net – Dr Nick Williams
Pseudo pseudo tumour cerebri – Dr Simon Heller
A vexing case – ophthalmology – Dr Korina Theodoraki
10:40 – 11:00
Industry break out & Coffee break
11:00 – 12:30
Trends in Medical Retina: Chairs – Ms Sam Mann, Mr Moin Mohammed, Mr Nigel Davies
11:00 – 11:30
11:30 – 12:00
12:00 – 12:30
Update in treatments for DMO – Miss Claire Bailey
Update in treatments for AMD or Uses of OCT-A in medical retina – Prof Ian Pearce
Update in genetics in medical retina – Prof Mariya Moosajee
12:30 – 13:10
Industry break out & Lunch
13:10 – 15:10
Trends in Cornea and Cataract – Chair Prof David O'Brart, Mr Scott Robbie, Ms Sancy Low
13:10 – 13:30
13:35 – 13:55
14:00 – 14:20
14:25 – 14:45
14: 50 – 15:10
Update on acanthamoeba keratitis – Prof John Dart
Update on ocular surface reconstruction and stem cell transplantation – Mr Sajjad Ahmad
DMEK – Mr Vito Romano
New enhanced aspheric depth of Focus IOLs – Mr Alex Day
Dry eye and cataract surgery – Mr Jack Gormley
15:10 – 15:30
Industry break out & Tea Break
15:30 – 16:30
Trends in Paediatric Ophthalmology – Chair Mr Luis Amaya, Mr Danny Morrison, Ms A Ritchie
15:30 – 16:00
16:00 – 16:30
New trends in the vitreo-surgical management of RoP – Mr Chien Wong
Innovating in ophthalmology: imagine the future and fill in the gaps – Ms Louise Allen
16:30 – 16:50
16:50 – 17:00
Kitty Heatley memorial research lecture (intro Prof Marshall & (given by prize winning trainee)
Thanks and programme close