Trends in Ophthalmology – 4th February 2022
The 47th Annual Meeting (virtual meeting)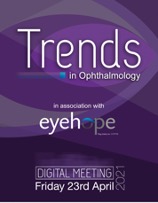 Unfortunately due to escalating COVID-19 infections and restrictions, the organisers & trustees of Eyehope have taken the difficult decision to change the forthcoming 47th Trends in Ophthalmology meeting to a one day online meeting.
Registration for this meeting is via Eventbrite (see the Trends 2022 page for link and more details). We are charging a £30 donation towards our Eyehope charity which supports ophthalmic research, education and training.
Sessions include: Medical Eye Unit, Medical Retina, Cornea and Cataract and Paediatrics and the Kitty Heatley memorial prize.
Speakers include: Prof Ian Pearce, Prof John Dart, Prof Mariya Moosajee, Mr Vito Romano, Mr Sajjad Ahmad & Mr Alex Day.
We are grateful to our Industry partners for supporting this event: Altacor, AOS, Bausch+Lomb, Santen, Scope, Farmigea Ophthalmics Ltd, Haag-Streit & John Weiss, Beaver Visitec International, and Thea UK Ltd.