Eyehope meetings
The 44th Trends in Ophthalmology
Thursday 31st January & Friday 1st February 2019
The Royal Society, London
The 2018 meeting was very well attended with over 180 delegates on both days. The evaluation, based on over 100 returned surveys, shows that 95% of delegates thought the meeting overall was very good to excellent.
'One of the best meetings in the uk that I have been attending for over ten years'.
'As always, the course was well organised. Interesting case presentations, good discussions and lots to take back to your practice'.
'The meeting was well organised. The location was very convenient. The cases presented were very interesting. It was a very productive two day meeting'.
The 16th VR in a Day
This meeting is now FREE to trainees from South Thames & Kent,
Surrey & Sussex Deaneries.
All other delegates have a minimal fee of £20.00 (until 29th December – £25 thereafter) to cover catering costs.
VR in a day is a heavily subsidised, not for profit, annual one-day course, now in its 16th year. The aim is to provide an extensive, up-to-date overview of Vitreo Retinal and allied problems.
Register now and book your place!
Friday 8th March 2019
St Thomas' Hospital, London Governors & Central Halls
Eyehope – The Charity
The charity Eyehope was formed in 2007 by a group of leading London ophthalmologists. Our Trustees and volunteers are passionate about improving the treatment and care for eye disease.
Eyehope funds research into all causes of sight loss. Traditionally, funding for sight problems has been aimed at the commoner causes of visual impairment. We are committed to researching all conditions, no matter how rare. This will directly improve patient treatment and enhance the quality of people's lives. Our current research projects include Cataract Surgery and Macular Degeneration.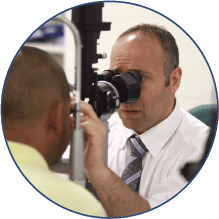 Eyehope supports health professionals with a wide variety of training needs so they can deliver better patient care. We run national courses to optimise the knowledge and skills of those treating eye conditions.
Eyehope's aim is to enable medical teams to give the best possible care to all patients.
Every day in the UK another
100 people start to lose their sight.

(source RNIB)
Call +44 (0) 1942 605680 for any further information