Eyehope meetings
Eyehope are celebrating the 70th Anniversary of the first permanent IOL implant for  cataract surgery by Sir Harold Ridley… 2020!
Join us for the Grand Ball, Thursday 6th February.
The 45th Trends in Ophthalmology
Thursday 6th February & Friday 7th February 2020
The Royal Society, London
Thursday – Day One
0930 – 1100
Medical Eye Unit Cases – Chaired by Gordon Plant, Dr Sui Wong & Prof Stanford
"The perils of cruising"  – Dr Duncan Rogers
"Can't wee, can't see"  – Ms Neda Minakaran
"It never rains but it pours" – Ms Chin Igwe
1130 – 1300
Trends in Oculoplastics – Chaired by Ms Susana Morley
Adnexal Trauma – Mr Andrew Coombes
Lifting the lid on eyelid cancer – Mr John Bladen
Who's afraid of the big bad gland – Mr Geoff Rose
Thyroid Eye Disease – Prof David Verity
1400 – 1530
Trends in VR When it all goes wrong – Chaired by Mr Roger Wong
Retinal detachment – Prof Tom Williamson
Cataract surgery complications – Mr Alistair Laidlaw
Diabetic retinopathy – Mr Roger Wong
Silicone Oil – Dr Shi Tan
1600 – 1645
Vision 2020 update – Chaired by Nick Astbury
Links and Its achievements – Ms Marcia Zondervand
The Muhimbili/STH link – Mr Moin Mohammed
Expanding links to networks – Mr Nick Astbury
1650 – 1730
The Michael Sanders Lecture – Prof. Miles Stanford
1915 – 2300
The Grand Ball with Drinks Reception – in honour of Sir Harold Ridley and St Thomas' Hospital
Friday – Day two
0930 – 1100
Trends in Glaucoma – Chaired by Mr Saurabh Goyal & Mr Ian Rodrigues
Results of Non-penetrating surgery – Mr Ian Rodrigues
Results of InnFocus/PreserFlo microshunt – Ms Sancy Low
Results of Kahook Dual Blade (KDB) internal trabeculectomy – Mr Saurabh Goyal
What to do with Primary Angle Closure Suspects: lessons from recent trials – Prof Tin Aung (Singapore)
Premium IOLs in Glaucoma patients – Pearls and Pitfalls – Dr Paul Harasymowycz (Canada)
Structure and Function in Glaucoma – implications for clinical practice – Prof David Garway-Heath
1130 – 1300
Trends in Cataracts – Chaired by Mr Nigel Davies
Introduction to light and optics – Mr Nigel Davies
The design of IOLs – Prof Chris Hull
Clinical considerations in IOL choice – Mr Mani Bhogal
Optimising Theatre Efficiency  – Prof David O'Brart
1400 – 1430
'Nullius in Verba'
A pictorial history of the Royal Society, with special reference to medicine and eyes – Mr Chris Gorman
1430 – 1600
Case of the Year Presentations
About Trends 2019
The 2019 meeting was very well attended with over 200 delegates on both days. The evaluation, based on over 120 returned surveys, shows that 97% of delegates thought the meeting overall was very good to excellent.
'One of the best meetings in the uk that I have been attending for over ten years'.
'As always, the course was well organised. Interesting case presentations, good discussions and lots to take back to your practice'.
'The meeting was well organised. The location was very convenient. The cases presented were very interesting. It was a very productive two day meeting'.
Eyehope – The Charity
The charity Eyehope was formed in 2007 by a group of leading London ophthalmologists. Our Trustees and volunteers are passionate about improving the treatment and care for eye disease.
Eyehope funds research into all causes of sight loss. Traditionally, funding for sight problems has been aimed at the commoner causes of visual impairment. We are committed to researching all conditions, no matter how rare. This will directly improve patient treatment and enhance the quality of people's lives. Our current research projects include Cataract Surgery and Macular Degeneration.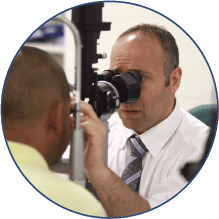 Eyehope supports health professionals with a wide variety of training needs so they can deliver better patient care. We run national courses to optimise the knowledge and skills of those treating eye conditions.
Eyehope's aim is to enable medical teams to give the best possible care to all patients.
Every day in the UK another
100 people start to lose their sight.

(source RNIB)
Call +44 (0) 7789950412 for any further information