Eyehope meeting 2021
Trends in Ophthalmology
Digital Meeting
Friday, April 23rd 2021
(Via Zoom)
Thank you to all who pre-registered for the Trends 2021 digital meeting. We do hope that 2022 will return to in person at the historical venue The Royal Society, London.
All pre-registered delegates have received a self validating attendance certificate and a link to the recording of the meeting.
Thanks go to our Industry partners supporting this event:
Altacor, AOS, Bausch+Lomb, Santen, Scope, Farmigea Ophthalmics Ltd, Haag-Streit & John Weiss, Beaver Visitec International, and Thea UK Ltd.
About Trends 2020
The 2020 marked a very special occassion of Sir Harold Ridley's 80th anniversary of the first lens implantation at St Thomas. The meeting included a Ball and a fabulous talk from the Rayner and Ridley families. The meeting was very well attended with over 180 delegates on both days. The evaluation, based on over 100 returned surveys, shows that 98% of delegates thought the meeting overall was very good to excellent.
'One of the best meetings in the uk that I have been attending for over ten years'.
'As always, the course was well organised. Interesting case presentations, good discussions and lots to take back to your practice'.
'The meeting was well organised. 
Eyehope – The Charity
The charity Eyehope was formed in 2007 by a group of leading London ophthalmologists. Our Trustees and volunteers are passionate about improving the treatment and care for eye disease. In 2019 Eyehope became a Charity Incorporated Organisation.
Eyehope funds research into all causes of sight loss. Traditionally, funding for sight problems has been aimed at the commoner causes of visual impairment. We are committed to researching all conditions, no matter how rare. This will directly improve patient treatment and enhance the quality of people's lives. Our current research projects include Cataract Surgery and Macular Degeneration.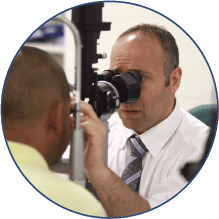 Eyehope supports health professionals with a wide variety of training needs so they can deliver better patient care. We run national courses to optimise the knowledge and skills of those treating eye conditions.
Eyehope's aim is to enable medical teams to give the best possible care to all patients.
Every day in the UK another
100 people start to lose their sight.

(source RNIB)
Call +44 (0) 7789950412 for any further information